Heavy metals - Toxicity and pollution status (P2)
........................................................................
The site pollutes heavy metals with water
In recent years of our country, due to economic development and population growth, the water environment has been increasingly polluted by heavy metals that originate mainly from industry and transportation. Heavy metals are generally difficult to remove by conventional wastewater treatment measures and if they enter domestic water sources above the permitted level will be the source of many serious diseases, threatening people's health and life. Therefore, the issue of research and environmental protection in general and the water environment in particular has become the top concern of many countries and organizations in the world.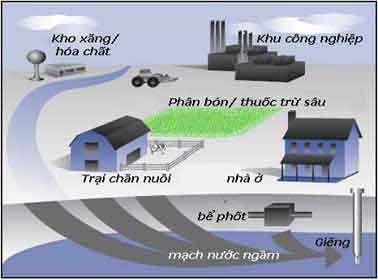 Environmental pollution includes: air, soil and water pollution. These three components are closely related because contaminants can move to each other through the interface of the environment. For example, human activities increase the concentration of SO2 and NO2 in the atmosphere, thereby creating acid rain, acid rain can increase soil acidity and increase the solubility of heavy metals in water, polluting more water sources.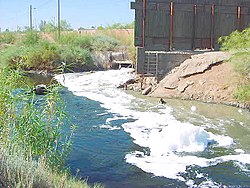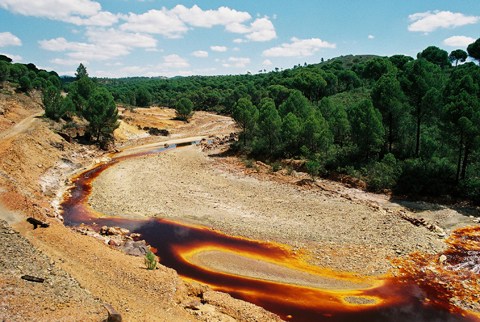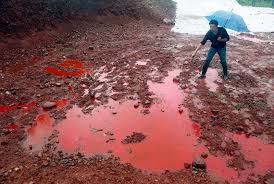 In contrast, pollutants in the water environment can remain in the soil due to the process of moving, seeping through the soil and polluting the aquifer. The International Energy and Nuclear Agency (IAEA) currently recommends collecting data on radioactive contamination, stain metals, and organic compounds in soil, air, and water environments (including including water, sediment and aquatic plants and animals, food. According to the IAEA document, currently, every year the toxins caused by metals by human activity exceed the total amount of toxins caused by radioactive waste and organic waste.
Previously, in our country, there were researches on environmental pollution. We have a nationwide research topic on artificial radioactive contamination of Cs137 in the soil, a theme with a national scale of atmospheric pollution. Both topics are managed by the Ministry of Science, Technology and Environment. Particularly for water environment, there are only individual studies, localities or research facilities. In addition, the content and measurement methods are also very limited, mainly identifying basic factors such as biological indicators (bacteria, viruses), cozyness and oxygen demand (BOD and COD), total Nitrogen, phosphorus, sulfate, organic substances ... Particularly for heavy and toxic metals such as Cd, As, Co, Hg, Mo, Pb, Ni ... have not been paid much attention because it was difficult to determine by Methods of analysis and common processing.
With the development of public-agriculture and transportation, water pollution in our country focuses mainly on industrial parks and large residential areas like Hanoi and Ho Chi Minh City. Ho Chi Minh, Hai Phong, Da Nang ... Particularly in Hanoi, according to current statistics, there are more than 500 medium and large-sized factories and enterprises, about 30 hospitals, hundreds of research institutes and laboratories. Every day, discharging more than 400,000 m3 of wastewater, of which more than 70%, is domestic wastewater. These types of waste water are not used or used for processing speakers and poured directly into 4 rivers flowing through the city: To Lich River, Kim Nguu River, Lu River and Lightning River, then all pour into the Nhue River through the dam. Thanh Liet.
Heavy metal pollution in the water is not only directly caused by industrial and domestic wastewater but also from other sources (transportation, coal burning, burning waste, fertilizers, pesticides ...). Particularly in our country, the water pipes and underground cables are too old to be corroded causing pollution Zn, Pb, Cd ... into the water environment. Heavy metals, whether contained in gaseous or solid wastes, also cause water pollution due to sedimentation falling to the surface of rivers and lakes or to the ground, which are absorbed by rainfall into the aquifer. Heavy metal ions are easily combined with water to produce hydroxides. The solubility of metal hydroxides depends on the pH of the water. Therefore, the level of heavy metal contamination of water depends much on pH conditions. In the bottom layer of rivers, due to biological processes, plants decompose and produce humus. Humus (humic compounds) has a great influence on the properties of water such as basalt, adsorption, complex… Heavy metals are capable of forming complexes with organic substances in humus, so humus is weak. The main element carries heavy metal in the water. Some aquatic plants such as algae, water hyacinth, have strong absorption properties of heavy metals and can also be used in the study of heavy metal pollution in water.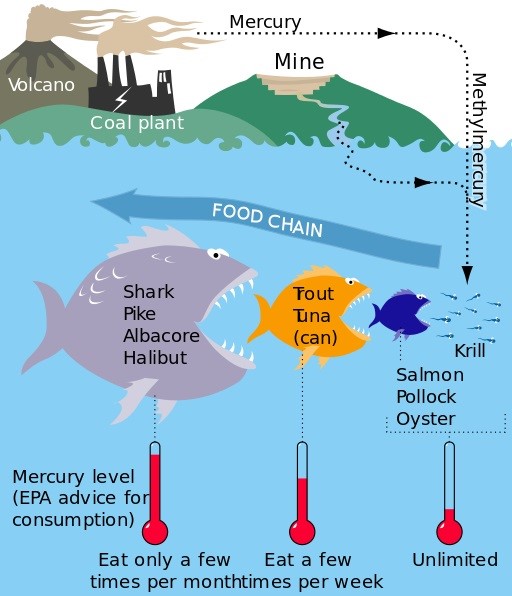 Thus, the study of heavy metal pollution in the water needs to analyze not only the water samples taken from the surface but also the sludge samples taken from the bottom or near the shore, or sometimes take the aquatic plants samples on the water or shore. Usually heavy metal content in sediment is much higher than that of the same element in the water taken at the same time and place.
Share: