The absorption method is divided into two types: physical absorption and chemical absorption. However, in general emission treatment, chemical absorption is more widely applied than physical absorption.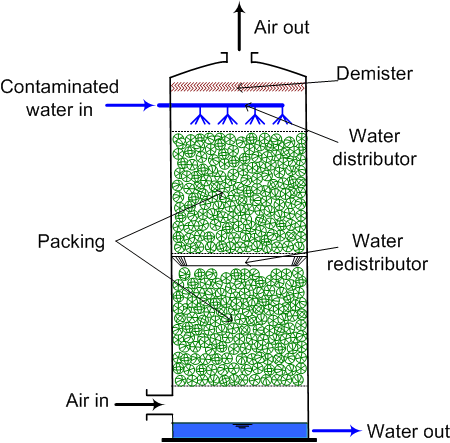 Chemical absorption is the process of absorption that is always accompanied by one or more chemical reactions. After the diffusion process is the process of chemical reactions. Common types of absorption tower are:
The absorption tower is filled with the most common hollow fiber pads. In the tower, people usually stuffed voluminous objects such as porcelain snails, metal furnace, coke ... to increase the area of ​​two-phase contact. In operation, the exhaust gas goes from the bottom to the top and the liquid goes from top to bottom. The flow of two phases is always calculated in advance to achieve the highest efficiency.
Hydrodynamic and bulk transfer studies in floating-bed absorbers show that this type of absorber can work at high flow rates without obstruction. The disadvantage of floating absorber towers is that it is difficult to drain heat during absorption. To get rid of heat, people usually have to use refrigeration circulating.
Foam absorption towers are often used in high-load, high-pressure, and heat-absorbing processes that require refrigeration. The main types of effervescent bubble tower include: bubbling through the net (or spongy material), foaming through interleaved discs and mixing gas and liquid mechanics. The most effervescent type of bubble absorption is the large volume of foam in the device. The movement of the fluid encounters great resistance. Designers have done a lot of work to reduce these drawbacks so that they can be used in industry because of its very high mass transfer coefficient. Increased layer height not only increases the absorption capacity, but also increases the resistance of the device. Normally people do not increase the liquid layer by more than 50 mm.

Spray towers/chambers are simple absorption devices. In the spray tower, the liquid is sprayed down from the top, the air is usually up from the bottom to increase the contact area and let the actual concentration of the substance be absorbed in the gas phase decreases in a downward direction. The concentration of the substance absorbed in the liquid phase is gradually increased from the top. This process is very beneficial for increasing processing efficiency. The spray absorption tower can be divided into three different types: a hollow type spray absorber, a high-speed direct injection absorber and a mechanical mist spray absorber. Gas dispersion can be performed by passing gas through a sheet of foam, perforated sheet or by mechanical stirring.
Share: