Principle: Use solid adsorbent to trap harmful gases and vapors on the surface as emissions pass.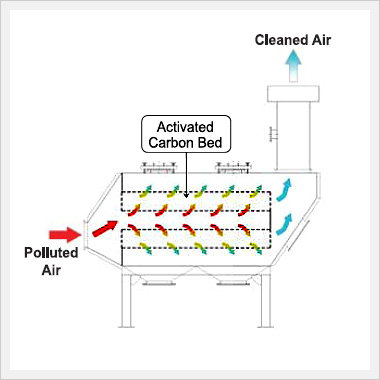 There are 2 groups of adsorption equipment:
Non-regenerative adsorption group: Apply to small scale or air purifier in air conditioner. It consists of flat, cylindrical, pleated, canister ...

Regenerative adsorption group: Apply to large scale waste, valuable waste gas to be recovered. Composed of fixed bed, moving bed, fluidized bed ... Usually 2 units of parallel (when a device is saturated) , will transfer the waste gas to another device and recycle the first one. Use steam, hot air or inert gas to regenerate (adsorption). Steam gas containing gas is led through the condenser to recover. Emissions are generally introduced into the equipment from the top down rather than from the bottom up, to avoid the escape of the adsorbent.
The adsorption process is generally carried out in adsorbent chambers containing adsorbents. The exhaust gas containing the adsorbed material is passed through the adsorbent layer. Substances that need to be adsorbed are kept, and clean air is discharged.
There are many types of adsorption towers, depending on the nature and flow of exhaust gas as well as the actual conditions of the factory that choose the appropriate tower. In addition to choosing the tower type, selecting the absorbing material is also an important element in the gas treatment process. There are many types of materials such as activated carbon, silicagel, zeolite, and other natural adsorbents.
Adsorption method has high cleaning ability. The adsorbents after being used are recyclable, which has reduced the cost of process and this is also the biggest advantage of the adsorption method.
Share: