1. Process of  hand-pressing method:
First, the builder will cover a supporting layer to remove the mold on the mold surface.

Next, coat the product with gel.

Coat on the surface layer.

Apply einforced layer on polymer resin.

Use a roller to press the reinforcement material with the plastic.

Finally, coat to create a surface on the reinforcement material.
     Once the material is repaired and the resin impregnation is completed, the product will be solidified at ambient temperature. Depending on the type of polymer, the thickness of the product, the thermal conductivity of the molding material and the environmental temperature, the speed of the product is fast or slow. In order to speed up the setting and reduce the time required to remove the mold, small sized products are introduced into the kiln, while larger products can be dried by hot air. The process of heat reaction during the setting process will increase the temperature of the product. In addition, the rate of thermal change is also one of the key determinants of the mechanical and composite quality.
Materials used in hand embroidery are usually fiberglass and unsaturated polyester.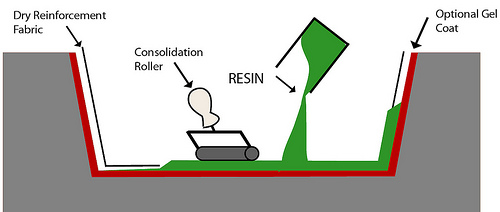 2. Advantages and disadvantages:
a. Advantages:
Making large, complex products that can not be processed by molding or spraying.

The durability of the product depends on the fiberglass content, the highest durability can be achieved in fiber content of 60%. Fibers' orientation direction can be chosen to match the durability requirements.

The cost of mold and products is low, easy to change the style and design.
b. Disadvantages:
The production speed is limited; the labour cost is high.

The requirement of workers' skills and experience is extremely high if they want to make the product between plastic and fiber with high quality.

Quality of product's surface is not equal.
Share: