PROCESS OF PRODUCTION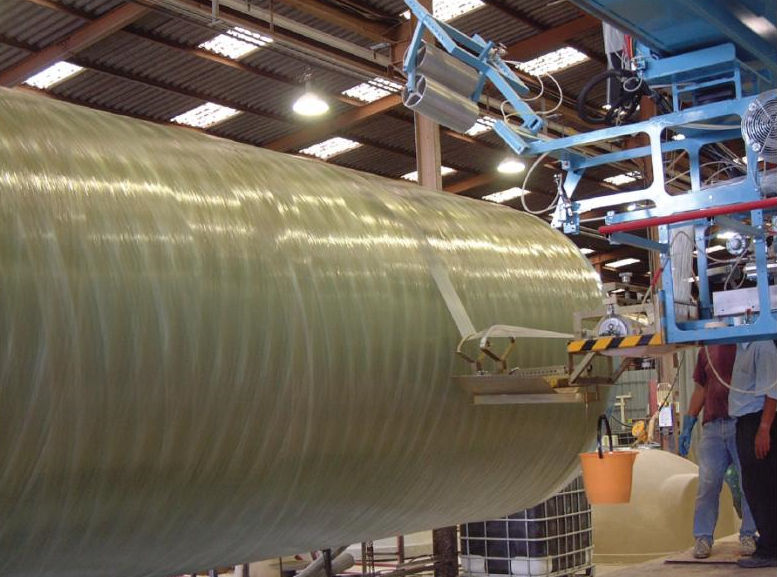 1. Winding Core Preparation Stage
The part for winding core impregnated with resin is called wrap core. Winding core is an important part because it creates the shape of the product. Types of winding core commonly used in the main method of winding are sand which can dissolve in water; plaster for small-volume products; a multi-section, foldable core for tubular products. For non-core products such as liquid or compressed air containers, winding core is usually made of metal that can sustain loads.

2. Winding Stage
The winding process starts as follows: a large number of bundles or roving fibers drawn from a string of rolls of yarn, comprising a plurality of yarn ends, are drawn through plastic troughs (consisting of catalysts or essential components such as color, UV resistant ...). At the beginning of the machine operation, the heads of yarn are drawn through the plastic sander, manipulated through residual resin blades and splitting strategies by the workers. The yarn is stretched and passed through the yarn head, then the worker will fix the yarn to the winding core and operate the machine. The continuous winding process causes the next loops to keep the yarn fixed on the winding core until the product is formed, then the winding core is removed and the process is continued to obtain the final product.

3. Curing Stage
In the filament winding method, a curing system is usually located at the manufacturing site. Resin must be used in sufficient quantities.
Curing methods: furnace, hot oil, lamp, steam, vacuum autoclave, microwave.

4. Removing Stage
For water-soluble sand winding core, most are easily removed: water is added to the reel, the sand is dissolved, and then fitting equipments are dismantled. Removal of the core will be difficult if the device has many segments or foldable. Gypsum cores can be broken by hand. This process must be industrious and strong enough to break the ingredients

5. Product Completion
6. Quality Control
Share: